EDITOR'S NOTE: We initially had Virginia winning the National Championship. However, given the wrist injury to De'Andre Hunter, we switched our pick. Additionally, we had UCLA advancing past Florida, but UCLA's bad at basketball and lost the play-in game. As such, we now have Florida over St. Bonaventure. Finally, thank you to reader, Charlie S., for catching a typo wherein we had Rhode Island winning multiple first round games. Given the egregious error, we too have fired Rex Tillerson.
We write this paragraph every year and it holds true year in and year out. This is our favorite time of year. The Masters is in a few weeks, along with the first pitch of baseball season. The NBA and NHL are rounding into their playoffs. European soccer league titles are being decided. Most importantly, it's bracket time!
It's the time of year when people inexplicably read columns on what "experts" think and then assume that people like us know what we're doing.
Nobody knows what they're doing with March Madness. There are buzzer beaters, about thirty teams nobody has seen play, and the average person can probably name about one player per team, if that. But who cares? Filling out brackets is the single best sports fan activity, especially when you couple it with Thursday through Sunday's games coming up.
And who cares that none of the players are getting paid for this event that generates multi-billion dollar TV deals! Sorry, we got a little excited there. We have major problems with the NCAA to put it nicely. But we LOVE March Madness. What a moral dilemma.
First, we'll go over some rules that we will be abiding by. Some of them we have used in the past. Some of them are new wrinkles because of the state of college basketball. For instance, there is a ton of parity because the marquee teams lose their best players every year to the draft and the global nature of the game has led to a bigger talent pool. What does that mean? More close games!
RW RULES OF THUMB FOR YOUR BRACKET
Don't pick a 1, 2, or 3-seed lose in the 1st round. Despite that there is a ton of parity, your odds of nailing the first ever 1 over 16 or the almost as unlikely 2 over 15/3 over 14 are slim to none. Don't pick them. A few too many bad upset picks and you're out of your bracket before things even get underway. We've seen more 3-seeds get up-ended in recent years but stay disciplined and don't bite.
Stats matter. Try not to pick teams that can't win the rebounding or turnover battle. Also, don't pick a team that can't shoot or defend the 3-point line.
Coaching matters. Look at some of the players to come out of Texas when Rick Barnes ran the show. How did they never go deep into the tournament for about a decade? Coaching.
Poor Rick Barnes. We use him every year. But he really does provide the best example.
Don't pick an upset if the underdog can't shoot threes. Conversely, a good higher seed to go against is one that can't defend the 3-point line. Even if a team keeps pounding the ball inside and getting consistent buckets, if they're giving up 3 points at the other end, they're losing, they're getting antsy, and they fall into the shootout trap. Oh, and how many times have we seen some mid-major catch fire from the 3-point line to come through with the upset? Ali Farokhmanesh is still our favorite combination of name/moment. Just watch the clip below. The onions to shoot that three.
Don't pick teams that got into the tournament mostly by how they played at home. Even though many of the early games will feature geographic advantages for some, it's not the same as playing at home. Different gyms mean your eyes have to adjust. No student section. Etc. These games are on neutral courts. Plan accordingly.
NOTE 1:  The deeper you get into the tournament, the more important it becomes to have a consistent scorer/play-maker. When we say scorer, we mean someone who can create on his own, not just a shooter. Balance matters, but the team that wins it all will have a go-to guy (e.g. Devonte Graham, Trevon Bluiett, and Jalen Brunson). Guaranteed.
NOTE 2: Don't pick schools with horrible sex abuse scandals. Sex abuse scandals have to carry bad karma with them, no?
NOTE 3:  Stop reading here and find someone in your office who has no clue about any of these teams but understands what seedings mean. That person invariably wins all of these pools.
EAST REGION
FIRST ROUND
1 Villanova, 2 Purdue, and 3 Texas Tech advance
4 Wichita State over 13 Marshall
Wichita State isn't going out this early. They know better than to overlook an opponent after being the overlooked opponent for so many years. Also, while the Shockers are susceptible to the 3-point shot, Marshall is mediocre shooting the 3-ball ranking 152nd in the country from three-point land.
5 West Virginia over 12 Murray State
We were very close to penciling in Murray State despite the 10.5 point spread. Murray State has guards who can cause problems and can really shoot the ball. However, West Virginia is just too big inside for Murray State. West Virginia will wear the Racers down.
6 Florida over 11 St. Bonaventure
We had UCLA beating the Gators, who are barely over .500 in road/neutral games and 6-6 in their last 12 overall. We figured Aaron Holiday as the game changer. UCLA lost to St. Bonaventure. Florida's defense is too much and their coach, unlike Steve Alford, might realize that you have to outnumber a zone up top and occupy the high post either with a player posting there or via cuts. Florida is not losing to St. Bonaventure
Note: If St. Our editor, a UCLA alum, mandated that we put the following clip in this column, despite UCLA's loss in the play-in game:
10 Butler over 7 Arkansas
Arkansas is good on offense but horrid on defense. Butler is solid, but not great, on both. Plus, you don't beat Villanova this season like Butler did by accident.
8 Virginia Tech over 9 Alabama
Virginia Tech is susceptible to a team that can bang inside. Alabama is not that team with a 0.2 per game rebounding margin. Collin Sexton is great, and we almost moved Alabama on just because of him. However, Alabama, while decent on the neutral floor, was terrible on the road at 2-8. This game is in Pittsburgh. It figures to be a Hokie crowd. We like Va. Tech by a bucket in a fun game to watch.
SECOND ROUND
1 Villanova over 8 Virginia Tech
This one will be a track meet and Villanova is just too talented to lose it.
2 Purdue over 10 Butler
This game may be a snoozer but don't sleep on Purdue. Carsen Edwards is a name you will know by the end of the first weekend. Oh, and they already beat Butler this year 82-67.
3 Texas Tech over 6 Florida
We're banking on Keenan Evans' toe being healthy. If it is, Texas Tech will be a very tough out. Florida has a tough defense too, but they don't have Texas Tech's playmakers.
4 Wichita State over 5 West Virginia
Wichita State will be smart enough to move the ball to beat the West Virginia pressure. If you can beat the pressure, West Virginia is easily beaten.
SWEET 16
1 Villanova over 4 Wichita State
Another year. Another tough draw for Wichita State. They simply aren't good enough attacking to get Villanova in foul trouble, which is the one way we see 'Nova losing.
2 Purdue over 3 Texas Tech
In what will be another close game, Texas Tech will come up short because of their inability to keep the Boilermakers out of the paint and off of the free-throw line.
ELITE 8
2 Purdue over 1 Villanova
Basketball has a tendency at the higher levels to become a game of match-ups and Isaac Haas at 7'2″, 290 lbs. will be a match-up nightmare for Villanova. They can't afford not to double team him and Purdue will punish them for that, either by getting 'Nova into foul trouble or hitting the open men for threes (Purdue is 2nd in the nation shooting the 3-ball with a 42% rate from beyond the arc). Purdue ekes out a trip to the Final Four.
MIDWEST REGION
FIRST ROUND
1 Kansas, 2 Duke, and 3 Michigan State advance (sorry, rules take precedence over notes re Michigan State's sex abuse scandal)
4 Auburn over 13 Charleston
Auburn may have struggled down the stretch but they're still ranked 15th in the nation in offensive efficiency and 35th in defensive efficiency. Charleston will struggle with the pace that Auburn will force on them. This will be a close game for about 30 minutes with Auburn pulling away late.
5 Clemson over 12 New Mexico State
Clemson is basically a better version of New Mexico State. Two solid defensive teams only New Mexico State can't shoot from the outside or the free throw line.
6 TCU over 11 Arizona State
Neither the public nor Vegas likes TCU. The Horned Frogs have an elite offense playing under Jamie Dixon (you'll remember him from his days at Pittsburgh). Their defense leaves a little to be desired but their offense is tough to stop.
Note: We like TCU whether it's Arizona State or Syracuse. TCU is a good team.
7 Rhode Island over 10 Oklahoma
Enjoy watching Trae Young while you can. Yes, he's that good. No, he can't win this game by attracting attention and kicking the ball to wide open shooters. They won't be wide open. Teams know that the secret to beating Oklahoma. Dan Hurley is a solid coach who will throw bodies at Young and really make him work. Rhode Island's inability to score in the half court won't matter in this up and down game either. Oklahoma is allergic to defense.
9 North Carolina State over 8 Seton Hall
Seton Hall is pretty meh all the way around. They're decent but not great at any one thing. This game will be a battle of the guards and we'll take N.C. State's back court for the win.
SECOND ROUND
1 Kansas over 9 North Carolina State
N.C. State can win this game as we have seen with their wins over Arizona, North Carolina, and Duke. That said, Kansas is too good to lose this early.
2 Duke over 7 Rhode Island
Rhode Island can't stop Marvin Bagley III. It's that simple.
6 TCU over 3 Michigan State
Michigan State is out because of bad karma from a horrific sex abuse scandal. If you need a basketball reason to knock the highly touted Spartans out, they rank no. 333 in the country in turnover margin at -3.2 per game.
4 Auburn over 5 Clemson
Everyone is down on Auburn. You don't need to be one of those people. BPI ranks them at 17. KenPom has them at 11. Clemson, on the other hand, struggles to take care of the ball, which will play right into Auburn's hands.
SWEET 16
1 Kansas over 4 Auburn
Too much Kansas. They won't beat themselves and Auburn is not quite big enough inside to punish Kansas on the glass.
2 Duke over 6 TCU
Watch some film on Bagley.
ELITE 8
2 Duke over 1 Kansas
Can Kansas drive, kick, and shoot Duke out of their zone? We don't think so based on what we've seen. Kansas may be a better all around team, but we like Duke in this particular match-up because of Duke's ability to crash the boards. They rank fourth in the nation in rebounding margin with +9.2 per game. That's the recipe to beating Kansas and Duke has it.
SOUTH REGION
FIRST ROUND
1 Virginia, 2 Cincinnati, and 3 Tennessee advance
4 Arizona over 13 Buffalo
Buffalo is a solid team but they drew the wrong 4-seed. Arizona will look like men among boys in this game.
5 Kentucky over 12 Davidson
We like Davidson but Kentucky's ability to defend the outside shot will stifle Stephen Curry's alma mater.
11 Loyola (Chicago) over 6 Miami
Loyola (Chicago) is our favorite double digit seed in the tournament. The 'Canes are short handed without Bruce Brown Jr., who underwent foot surgery. Expect Loyola (Chicago) to not give an inch for 40 full minutes and frustrate Miami.
10 Texas over 7 Nevada
Vegas has this spread at even. We'd favor Texas. You know that a Shaka Smart team is going to be ready to go in March.
8 Creighton over 9 Kansas State
This game will be a classic clash of styles. Creighton is a run and gun team and Kansas State is a defensive juggernaut. We'll take the team that can score the ball better this time of year. That said, this game is really anybody's to win.
SECOND ROUND
1 Virginia over 9 Creighton
Kansas State would actually be a tougher match-up for Virginia. Creighton's offense is not as good as Virginia's defense. Add to that the fact that Virginia's offense is tough to prepare for and you have what should be an easy W for UVA.
10 Texas over 7 Cincinnati
Call us crazy but we're just not that high on Cincinnati despite their 30-4 record. We've watched their games and seen them go through significant scoring droughts. You can't do that in March and Texas has the talent to win what will be an ugly game between these two teams.
11 Loyola (Chicago) over 3 Tennessee
If Rick Barnes couldn't lead Kevin Durant out of the second round, he's not leading this Tennessee squad out of the second round either.
4 Arizona over 5 Kentucky
Well, we get to see two preseason top-5 teams play in the second round. Not bad. Kentucky can defend the perimeter, but what answer do they have for Deandre Ayton? None. That said, not many teams do.
SWEET 16
1 Virginia over 4 Arizona
This is an intriguing match-up. Arizona is a more talented group of players but Virginia is the better team. If Arizona could somehow figure out how to rotate on defense, we'd probably take them. But you don't learn team defense all of a sudden this late in the year. Virginia wins a squeaker.
10 Texas over 11 Loyola (Chicago)
The bracket makers probably wanted to see Rick Barnes against Texas here but alas, they're stuck with this game. In it, Loyola's lack of interior size will be its undoing. On to the Elite 8 for Shaka Smart once more.
ELITE 8
1 Virginia over 10 Texas
Texas can't stay in this game for 40 minutes. Virginia will wear them down at some point and we wouldn't be surprised to see a blowout either.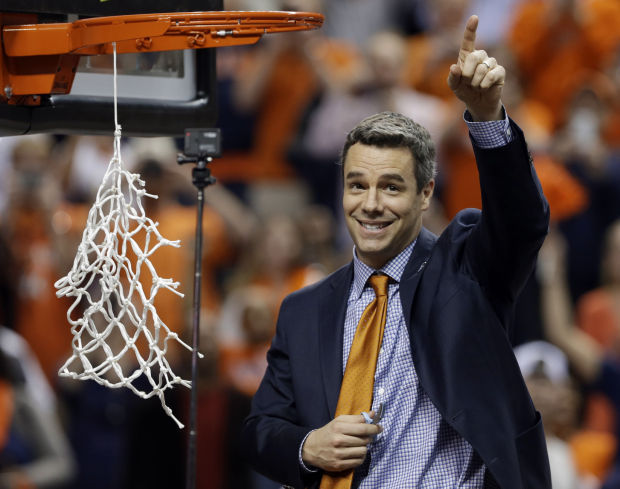 WEST REGION
FIRST ROUND
1 Xavier, 2 North Carolina, and 3 Michigan advance
4 Gonzaga over 13 UNC Greensboro
May as well just pencil this one in. Gonzaga's going places.
5 Ohio State over 12 South Dakota State
Sorry to all of you South Dakota State fans out there, but we're suckers for a good 1-3-1 half court D.
6 Houston over 11 San Diego State
Houston is better than you think. Coach Kelvin Sampson in getting his millionth chance is doing quite well with Houston. San Diego State has a good defense, but not as good as Houston's. Houston will suffocate SDSU's scorers.
7 Texas A&M over 10 Providence
Providence is the real deal. They took Villanova to OT in the Big East Final and deserved better than a 10-seed after beating two of this year's 1-seeds, Xavier and Villanova, earlier in the season. Providence is a team that the BPI and KenPom get wrong. All of that said, Texas A&M is too big inside for Providence. This will be an ugly game and while Providence is the better team, A&M has the size advantage in a game where it will matter.
9 Florida State over 8 Missouri
One of Missouri's best players is returning from a back injury. Another is suspended because of a DUI. We'll take the team not in disarray.
SECOND ROUND
1 Xavier over 9 Florida State
If Missouri gets past FSU, they could be a tough draw for Xavier, but we don't see that happening. As such, Xavier, every bit as tough as the Seminoles but far more talented, moves on to the Sweet 16.
2 North Carolina over 7 Texas A&M
North Carolina struggles against teams that can shoot. Texas A&M is not one of those teams.
3 Michigan over 6 Houston
Another game featuring two great defenses. We think it stays close and is a bit more of a toss up than you think. That said, Moritz Wagner is a tough match-up for Houston and will be the difference.
4 Gonzaga over 5 Ohio State
Ohio State's bench is too thin and will either get abused or its starters will be too drained to play a full game against a solid Zags squad.
SWEET 16
4 Gonzaga over 1 Xavier
Xavier has a tendency to lose when another team can match its scoring output. Meet the Zags.
3 Michigan over 2 North Carolina
North Carolina can't defend the 3-ball and Michigan is a team that can take advantage. Their percentage isn't great but that's only because they foist up a ton of 3's. North Carolina didn't deserve a 2-seed and this is where that fact shines through. Sorry Roy Williams. You're not sneaking up on anybody this time.
ELITE 8
3 Michigan over 4 Gonzaga
Let your co-worker who knows nothing about basketball pick this game for you. We'll go with Michigan because we think they'll take advantage of Gonzaga's sometimes leaky perimeter defense. Regardless, this is a game to sit back and enjoy.
FINAL FOUR
1 Virginia over 3 Michigan
Michigan is going to be a tough out given the hot streak they'll have been riding at this point; however, Virginia has the discipline to not leave any shooters open and force Michigan to play inside. That won't bode well for the Wolverines.
2 Duke over 2 Purdue
As you can tell, we believe that Purdue is underrated. We don't see Duke's NBA talent as the difference in this game but rather their ability to crash the boards. Purdue won't be able to win with the second chances it's going to give up in this game.
CHAMPIONSHIP
2 Duke over 1 Virginia
An all-ACC Final and we saw it playing out similarly to when Virginia won at Duke in January. However, that was before ACC Sixth Man of the year De'Andre Hunter went down with a wrist injury. This will be a low-scoring hard fought game. Virginia's Kyle Guy is not enough for the Tony Bennett crew to cut down the nets. Duke just has too much talent on the floor for Virginia, who will struggle to score points down the stretch in this close game. Enjoy the Tournament and good luck to all!