We knew before checking Yahoo's site that the UCLA vs USC game would be on the slate during a rivalry week. In other words, we're starting the week down 0-1 (see Weekly Reminder 1). For those of you UCLA fans who want to avoid the game but need to know how you'd be feeling if you watched it, here's this clip:
Weekly Reminder 1: As always, our strategy for most games (we go with our gut occasionally) is pretty simple: Vegas doesn't like losing money so we go against the overwhelming trends (e.g. when one team has 80% of the public behind it), which leads to many underdog picks because the public is always in love with favorites. Unfortunately, our strategy also incorporates picking UCLA every week because Mr. Rudin went there. We still won somehow.
Weekly Reminder 2: Some of the games on Yahoo show the spread as "off", which means a spread has not been assigned. Yahoo makes those games an even line. We won't be making picks for those in this column. Our picks will appear here in a weekly column on Thursday mornings until season's end or the time where we realize that our picks have become so putrid that they become embarrassing to post, whichever comes first.
     VIRGINIA +19 at MIAMI
A little recency bias has inflated this spread by a few too many points.
     TEMPLE +14 vs. CENTRAL FLORIDA
We were leaning Temple anyway but then saw 87% of the public on Central Florida pushing us over the edge.
     TEXAS +3.5 at WEST VIRGINIA
Yes we will take that extra half a point in what should be a close game, thank you very much. Oh, and 83% of the public is on West Virginia.
     INDIANA -10.5 vs. RUTGERS
Rutgers is not good.
     MINNESOTA +7.5 at NORTHWESTERN
We like Northwestern, but not giving more than a TD here.
     WISCONSIN -7.5 vs. MICHIGAN
Wisconsin needs statement wins to get into the playoff. This could be one of them.
     ARKANSAS +11.5 vs. MISSISSIPPI STATE
Mississippi State should have beaten Alabama last week. Now they get to go on the road in a game that they should win handily. 82% of the public is with them. Expect a letdown.
    TEXAS TECH +7 vs. TCU
Texas Tech is sneaky tough at home, plus 83% of the public is with TCU here.
     SMU +12 at MEMPHIS
SMU has disappointed plenty, which is why we're not surprised that 81% of the public is against them here. Vegas though. Vegas.
     FRESNO STATE -1 at WYOMING
Josh Allen is a great QB and we wouldn't bat an eye at someone who said that he should be the first QB off of the board come NFL Draft time. But the rest of the Wyoming team is . . . what's the word Charles?
     OREGON STATE +7.5 vs. ARIZONA STATE
Arizona State can put up points, but Corvallis is a tough place to play in November.
     DUKE +7 vs. GEORGIA TECH
Sorry triple option, not this week. That spread is three or four points too many for us.
     OKLAHOMA STATE -20.5 vs. KANSAS STATE
The Pokes can't make the playoffs, but they have their eyes on the Big XII Championship and a rematch with Oklahoma.
     PURDUE +7.5 at IOWA 
Purdue as more than a touchdown underdog AND 88% of the public is against them? Too easy.
     KENTUCKY +21.5 at GEORGIA
This is a tough one because Georgia could come out pissed and win by six TD's. But we're banking on their being shell-shocked after losing that badly to Auburn last week.
     SYRACUSE +13 at LOUISVILLE
Here's another photo of Bobby Petrino to convince you to go against Louisville.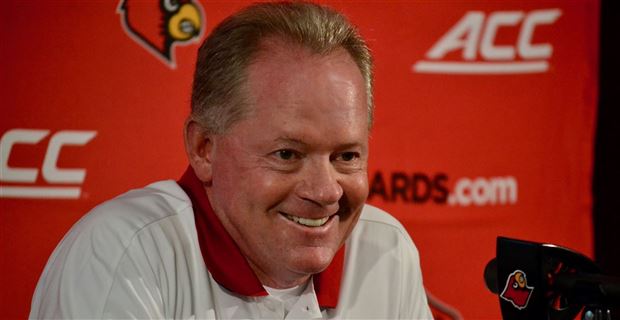 NOTRE DAME -17.5 vs. NAVY
If you're Navy, it's not good when you might not announce who your starting QB is until game day.
    UAB +10.5 at FLORIDA
Florida shouldn't be favored by ten and a half points over any college football team this season.
      NORTH TEXAS -3 vs. ARMY
The Mean Green at home is all we needed to hear.
      ARIZONA even at OREGON
If we had a lock of the week, this would be it. Oregon has been awful. Well, maybe Purdue would have been our lock. Fine, TWO locks of the week!
      TENNESSEE +15.5 vs. LSU
We don't want to take Tennessee, but 80% of the public is on LSU. Rules are rules you know.
     WAKE FOREST -1.5 vs. N.C. STATE
One thing we were right about: Wake Forest, this season's best kept secret.
     MISSOURI -8.5 at VANDERBILT
Missouri has quietly impressed of late.
     UCLA +16 at USC
This spread could not be high enough. But our freaking editor went to UCLA so here we are.
     CALIFORNIA +16 at STANFORD
Too many points for this rivalry week game. Cal isn't that bad.
LAST WEEK: 11-13-1
SEASON:        125-135-5